About Our 2020 SaaS Survey
Follow along: Download the 2020 SaaS survey report here. [New version! Get the 2021 report here.]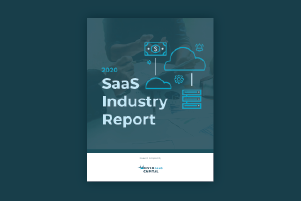 Last year, River SaaS Capital conducted its first annual SaaS survey and produced an in-depth report on how SaaS companies nationwide obtained funding, how they used it, what they learned from the experience, and what their plans were for the following year. The report validated common industry expectations but also produced some meaningful insights that revealed how different funding avenues produced different results.
For this year's SaaS survey, we took a similar approach, yet focused more on before and after as it related to the funding. Specifically, we asked SaaS companies about what type of funding they chose to pursue, how it benefited their companies (or didn't), whether it helped them achieve their goals, and what they did with their funding. Similar to last year's report, the data validated some industry norms, but it also revealed some interesting details about where SaaS company leaders decided to focus their resources.
Let's take a look at a few highlights from this year's SaaS survey report. And be sure to download it here to get complete details!
What We Learned from the SaaS Survey
Participants Were Shy About Reporting Success
Understandably, most SaaS companies surveyed cited growth as their number-one priority. To achieve that goal, companies focused on several funding options including venture capital, debt financing, bank loans, angel investors, and more. And while 90% of participants stated that they only achieved some of their goals, companies reported strong gains in other areas, demonstrating that they definitely achieved what they set out to do for growth.
MRR increased dramatically for many participants, companies increased the number of customers subscribed to their platforms, churn rates reduced with higher concentrations in the <3% and 3–5% brackets, and companies were able to increase their team sizes as well. All of this information points to positive gains throughout the year while also addressing potential downfalls in churn and other areas. While specific goals may not have been hit, SaaS survey participants moved in the right direction last year.
See how participants reported their accomplishments.
Participants Focused on Digital
While there are ample digital opportunities for SaaS companies to leverage for acquisition, retention, and up-selling, there are just as many traditional and non-digital avenues. However, as the SaaS survey reveals, companies prioritized digital over other avenues that historically have been more common.
Digital strategies such as email marketing, automation tooling, search engine optimization, and certain types of digital advertising led the charge. Trade shows and industry events were also heavily utilized for acquisition, but referral programs, partnerships, and other non-digital methods were utilized less frequently for customer growth.
Learn what other channels companies used for growth and retention.
Funding Achieved More Than Growth
For this year's SaaS survey, participants reported being able to accomplish a great deal, ranging from adding more team members to their business to stabilizing it financially. In tandem with these two achievements was accelerating sales and marketing efforts, which supports the dramatic increase in MRR from pre-funding to post-funding and the increase in the size of companies' customer bases.
Following these results closely were expanding sales teams, implementing new technology or systems within their organizations, and expanding or stabilizing operations. At times, certain funding types are used to regain shares owned by outside or equity investors; however, participants in this year's SaaS survey cited no such efforts.
See what else participants were able to achieve with their funding.
Participants Are Taking Action
Unexpectedly, most SaaS survey participants reported venture capital and bank loans as being the least beneficial funding avenues to their organization. Venture debt and — initially — venture capital were expected to be the most beneficial, followed closely by angel investors and self-funding.
Despite these results, most participants expressed interest in exploring venture capital and bank loans again for future funding. Venture debt ranked equally with venture capital in this section. Companies that didn't use certain funding avenues are now considering them for future efforts.
See what companies are planning for their future funding goals.
What Will You Do with the SaaS Survey Information?
This year's report confirmed industry expectations while also shedding light on some unexpected plans SaaS companies have for the future. We want to thank our participants for their involvement and time and for their role in giving those who explore this year's SaaS survey report valuable information that can help guide decision-making.
As your company considers options for future funding efforts, it's worth taking the time to fully understand the benefits of each option. Those interested in learning more about the differences between debt financing and venture capital can explore a side-by-side comparison of a fictional scenario here to see how different financing methods play out over time.
But the end result isn't always the intent, and sometimes, certain funding methods are desirable over others for specific reasons. For example, if your goal is to stabilize operations, and you're a larger and more established SaaS company, venture capital might make more sense over debt financing. If you're looking to accelerate growth through sales and marketing, debt financing can provide you with key advantages. Explore more differences between venture capital and debt financing here.
Get Guidance for Your Funding Needs
River SaaS Capital provides both debt financing and venture capital options for SaaS companies. Whereas other companies simply provide financing with little additional support, our investment team partners with you for the long term regardless of the funding option you choose. Learn more about our debt financing offerings here. If you're considering venture capital instead, you can learn more about our approach here.
As always, the River SaaS Capital investment team is here to help you identify the right funding option for your goals. Get in touch with us below to learn more about our firm and how we can help you grow in 2020.
And don't forget to check out this year's SaaS survey report to get the full details on what SaaS companies achieved last year!