IT is Looking for Options that Integrate with Existing Applications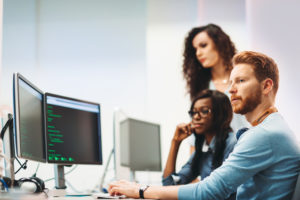 Despite the tremendous growth of SaaS over the past couple years and its anticipated growth throughout 2019, SaaS companies must understand that new opportunities in themselves may not necessarily translate into scalable growth. New subscribers are great and are worth your time and effort, but it's what comes next that really matters. After all, you're looking to maximize lifetime value — not "right now" value.
Retention is critical, and one of the best ways to achieve that is through integration. Unless your platform can solve nearly every business challenge and requirement that could ever arise, you won't be the only platform or system that your customers utilize. To deliver lasting value for your subscribers, it is worth considering how your platform can serve as a SaaS integration. How can you integrate with other leading enterprise business applications such as Office 365, Epicor, or Tableau?
Those are just a few examples, and to determine the best options for a SaaS integration, you need to thoroughly understand your audience and whether the need for integration even exists. However, by this point in your roadmap, understanding those points shouldn't be a problem. So, let's dig into a few considerations that can help you increase SaaS user adoption, promote lasting relationships with existing customers to increase lifetime value, and scale your business up to the next level.
Benefits of Offering Integrations in Your Platform
Expanding Your Platform's Capability
Your platform already solves a specific problem that you've identified in the market. That solution provides a massive benefit to those subscribers, but can you take it a step further? By opening up your platform to integrate with other major business applications, you can extend the capability of your platform and bring your solution into the fold of their normal day-to-day business operations. Your solution's reach is magnified and can add even greater value in the other processes and functions that subscribers are performing.
Streamlining Subscribers' Operations
Just as an integration option enables your platform to synergistically expand its utility for your subscribers, integrations also help subscribers synergistically streamline their internal operations. Take HubSpot for example. A simple integration feature between HubSpot and Gmail enables sales-related emails to be tracked. That data is populated in a contact's record in HubSpot, allowing a sales representative to know how prospects are engaging with his or her communications. That information allows representatives to understand whether a prospect is actually interested in any offer being made, thereby saving them time in knowing if that prospect is worth further pursuit.
Saving Subscribers on Custom Development
Enterprise business applications, though robust and built on years of experience and testing, are often still not enough to solve certain business problems. Sometimes, they even make them worse or more prominent. While they can help move a company forward, but they're still not enough to move the company across the finish line of a specific goal or objective. This is where you as a SaaS provider have an opportunity to shine.
If your solution solves one end of a problem, and existing business applications solve another, it's clear that a bridge must be built to complete the solution. Integration allows you to do just that — removing the need for your customer to invest in custom (and costly) outside development.
"But aren't we just picking up the tab for that development?" you might ask. Maybe, but consider the long-term implications of developing an integration. More than one subscriber is going to have a use for it, and you wouldn't bother developing it if not. This is where scale comes into play — just as you considered your market when building your SaaS platform in the first place, consider whether your existing audience could benefit from such an integration now. If it makes sense, do it. If not, don't.
Invest in Growth and Platform Expansion
Your platform is your business. Your business is growing your platform. Investing in platform development to make it more useful to current subscribers and potential customers is a worthwhile effort alongside other efforts, such as allocating resources toward sales and marketing efforts.  While many funding avenues can be explored to achieve these goals, not all may allow you to focus on what you want to focus on.
While venture capital is a great source of funding for young and growing companies, it does present challenges — primarily in that your ownership will be diluted, and you may have to give up a board seat to the investor. Other options, such as bank loans, may require assets for qualifying that SaaS businesses typically don't have. Venture debt remains the most flexible solution to provide SaaS companies with the financing needed to achieve specific goals free from outside influence.
Consider how your organization can extend its benefits for subscribers, and draw in more subscribers through integration. If this strategy is applicable to your platform, audience, and roadmap, we strongly encourage you to consider your funding options to make it happen. Reach out to us today to learn how our venture debt financing can help you achieve your goals.