Learn the Types of Debt Financing for Your Growth Goals
At River SaaS Capital, we're committed to providing you with the right debt funding. Whether you're looking to accelerate sales and marketing efforts, stabilize operations, extend your runway, or buy back company shares, we have the types of debt financing you need to achieve your goals.
Learn more about the debt capital solutions we offer below. Additionally, be sure to learn about our lending criteria, which apply to all three options. If you have any questions, reach out to our investment team today.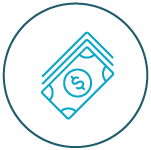 Standard Installment Loan
Consisting of principal and interest payments over a set period of time (typically 3–5 years), our standard installment loan provides you with debt capital in a lump sum. Tranches are also available, allowing you to take portions of the loan amount as needed while saving you on interest. At any time, principal that you have already repaid can be reborrowed.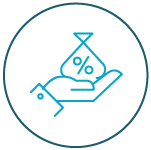 Interest Only
Interest-only debt financing is intended for SaaS companies who want to hang onto as much of their revenue as possible following a debt investment. This allows the focus to be on growth and leveraging earnings to accelerate momentum. Exactly what it sounds like, interest-only means you're only obligated to pay the interest on your loan at first. We'll work with you to define an appropriate timeframe for this, after which the loan balance can be paid in full, or you can begin making principal and interest payments.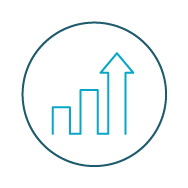 Step-Up Structure
A step-up structure is similar to revenue-based financing in that payments increase as your company and revenue grow. However, with our step-up financing structure, the terms and conditions of this arrangement are calculated and disclosed up front based on your growth so you know exactly what to expect. With revenue-based financing, payments may change from month to month. Learn more about the differences between revenue-based financing and SaaS debt funding here.