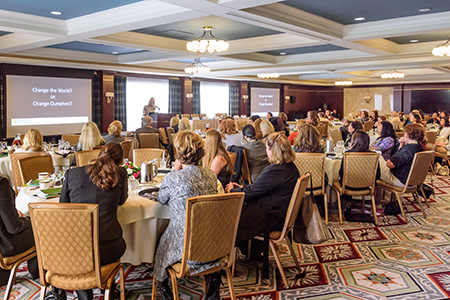 Last month, I was fortunate enough to moderate a panel discussion at the second annual Women Who Fund Forum, held in conjunction with the annual Michigan Private Equity Conference at The University of Michigan's Ross School of Business.
My panel, like the event itself, was focused on connecting and engaging women business leaders, investors and entrepreneurs. Our discussion featured insights from Carol Clark of Healthcare Technology Capital Partners, Ellen Clark of Greenwich Capital Group, Jan Garfinkle, of Arboretum Ventures, Heather Madland of Huron Capital and Mary Petrovich of the Carlyle Group and Axle Tech International.
You could fill a dozen blog posts with the knowledge these women shared, so instead of trying to recap every last topic we discussed, I've decided to focus on five of my own key takeaways from our great conversation.
1. Women investors want the same thing all good investors want 
Male or female, there is a zero percent chance of succeeding as an investor (or an entrepreneur) if you aren't looking to make a P-R-O-F-I-T. Much is made about the differences between genders, but at the end of the day, we're all looking to found, find, fund and/or support great companies who know how to leverage innovation to make money.
2. Good investors look for great leaders 
All investors are different. They span every level of risk tolerance and have different concerns, but at the core, successful investors realize it's critical to have a good management team at the helm. The women on this panel were no different in that they all have best practices they employ when evaluating management teams. Collectively, the theme was truly great leaders make great companies. These women have honed their skills to identify these great leaders and have had multiple successes as a result.
3. Diversity is good for your bottom line 
Why should you care about a gender-balanced team, or a more diverse portfolio? Because whether they are entrepreneurs, or investors, women often outperform their male counterparts, yet they still represent a shockingly small (but growing) percentage of their respective industries. Bottom line, if you are truly focused on profit, you simply cannot afford to leave out such an important segment of the market.
4. Strong women are the most powerful advocates for other women 
So many women have made life-altering sacrifices to fight their way to influential positions in our industry, but we can't forget that the journey has given us access to powerful tools (networks, knowledge, and yes, money) that can make the trip a little easier for those that follow.
5. It's a great time to be an entrepreneur  
As the baby boom generation reaches retirement age there is a HUGE opportunity across the financial landscape with more businesses for sale in general, due to that generation's legacy for innovation. As these professionals consider next steps, the door is wide open for hard working entrepreneurs to start, buy and/or fund new ventures.
Click here to learn more about the Women Who Fund Forum and the Michigan Private Equity Conference. Then, visit our funding page to learn more about how River SaaS Capital provides capital for up-and-coming SaaS entrepreneurs