Identify the Right Lender and Submit Your Information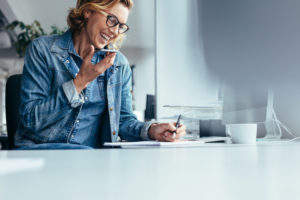 Part of growing a SaaS company is raising capital. One of the best avenues for doing that is obtaining debt financing. Once you've researched venture debt financing providers and have chosen one, you might be wondering how to apply for debt financing. In fact, most debt financing lenders have a simple online application for financing with only a handful of questions. That's because of the due diligence that follows after, in which you'll provide additional information to support your application.
For now, though, you'll need to gather some basics about your business, financials, and goals. Be sure to have your company's legal name and date of establishment, your current annual recurring revenue or monthly recurring revenue, and of course, contact information along with your position. You may also be asked for a timeline as to when you actually need capital. After applying, you can start to gather additional information like management resumes and financial documents. The lender will specify what they need when they reach out to you.
While every lender is different, one thing you'll want to look for in debt financing companies is response time. If you previously reached out to some to learn about their process, you'll have an idea of their service level. Provided you fit their criteria, the best venture debt providers will want to help you right away so that you can accelerate your growth and achieve your goals faster. The faster they serve you, the more successful you'll both be.
Navigate the Due Diligence Process and Final Steps
The next step in the application is undergoing due diligence with your venture debt financing lender. Questions typically focus on your SaaS product offering, management team, and business plan. This information will be reviewed along with financial statements, initiatives for the next couple of years, current contracts to assess subscription revenue and your customer base, and your overall sales process.
Once the lender has completed its due diligence process, you'll receive a term sheet for review and negotiation. This document will outline the conditions of the loan, such as the loan amount, repayment terms, and other details. Your lender should maintain a high-touch level of service and communication with you during this process to answer any questions and keep you informed of their decision.
When your loan is approved, you should receive your funds. Of course, the speed of funding depends on the venture debt company you chose to work with, their unique process, and your responsiveness in getting information to them when requested. Remember that you have a part to play in the success of the relationship and transaction.
Get Support and Guidance from Your Lender
Once your application for financing is complete and your loan is funded, you'll be able to get to work doing what you do best. As you move forward — whether it's building your customer base, extending your marketing and sales efforts, attracting top talent, supplementing previous VC sponsorship, or a combination of these — your venture debt partner will remain in touch with you. This isn't just to keep a finger on the pulse of your SaaS business, but also to provide guidance and support to you.
The best venture debt financing providers don't just lend. They invest in you, your knowledge, and your passion. You want your SaaS business to succeed, and so do they. Expect to hear from your lender often and in a supportive manner, sharing articles, insights, and strategies from their broad experience to help you achieve your goals sooner.
And remember to lean on your lender for support. While they'll be in touch with you throughout your loan term, you can be in touch with them, too. Pick their minds. Ask questions. See who they know. Have a touch base meeting. There's more to your debt financing partner than just capital, so be sure to take advantage of their insights and collaboration, too.
River SaaS Capital Will Guide You Through Your Application for Financing and Beyond
River SaaS Capital's partnership-first approach focuses on providing growing SaaS companies with the capital they need while supporting their leadership teams' independence. Our flexible funding solutions are customizable to fit your specific needs. If you're interested in working with the SaaS investors you can trust, you can learn more about our debt financing solutions here.
Ready to take the leap? Get the financing partner you've been looking for. Apply with us today.