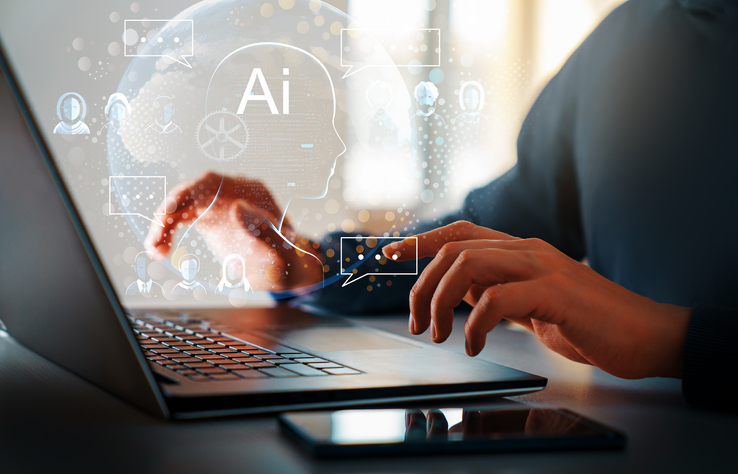 Artificial intelligence (AI) innovations are expanding each day, from high-powered chatbots to predictive text tools and machine learning platforms. Some SaaS founders have begun to adopt the power of AI into their products and business operations. For attorneys, CPAs, growth advisors, and other invested parties with SaaS founder clients, the time is now to develop a strategy for whether SaaS AI should be implemented in the products of business operations and what funding mechanism is best suited to support that.
Read on to explore the current trends and events surrounding SaaS AI and what strategic funding source your SaaS clients will benefit from if they decide to embrace it.
Breaking Down the SaaS AI Status-Quo
For businesses across all industries, the use of SaaS AI tools is increasing. In 2022, more than one in three businesses reported that they used AI, and that number is expected to rise.
Though positive opinions and interest in AI are growing, feelings are still divided among both employees and customers. 38% of Americans in one study felt more concerned than excited about the future of AI, and nearly half of the American workers surveyed feared AI would take their job. Similarly, some customers are more concerned than excited about incorporating AI into their daily lives.
However, many customers and employees see SaaS AI as a positive addition. Nearly 60% of surveyed American workers in one study felt optimistic that generative AI like ChatGPT may help boost their productivity. More than 62% of customers surveyed in one study reported that they'd be willing to use AI to improve their experience with a product or service.
AI tools can empower SaaS founders to better serve customers in a variety of ways. Your SaaS clients may consider dedicating funding to implement unique features that add value for their customers, including:
Chatbots – By implementing a helpful chatbot, your SaaS clients can offer 24/7 support and answer their customers' questions without delay no matter the time of day.
Greater Personalization – AI tools can curate personalized news feeds, advertisements, and experiences for customers to enjoy an experience more reflective of their interests.
Language Translation – The instant translation of SaaS content better serves all customers and eliminates barriers.
Predictive Text Generation – Adding predictive text generation abilities to SaaS applications can deliver a better, faster user experience to customers.
The status quo of SaaS AI is complex, but it isn't slowing down the innovations occurring with AI software and technology. Now's the time for your SaaS clients to determine whether they want to implement AI into their products or operations to deliver more value to their customers, and if so, how they should fund it.
SaaS AI and Venture Capital
Venture capitalists are rapidly shifting their focus to funding SaaS companies approaching SaaS AI strategically. For SaaS companies hoping to raise their chances of securing higher funds in the next raise round, adopting an AI strategy is key.
Adopting and implementing AI is costly. From the price of the AI technology to the training, marketing, hires, and more, SaaS founders who want to introduce AI into their products or their business practices require funding now to do so. When you're seeking strategic funding mechanisms for SaaS AI, choose venture debt.
Venture Debt Offers Strategic, Swift Support
Whether your SaaS clients are seeking swift funding to expand their AI strategy and achieve a higher valuation in the next equity funding raise round, or they're looking to manage their equity dilution while accessing vital funds to push forward on strategic AI initiatives, venture debt funding offers strategic support.
Venture debt funding is a non-dilutive financing option that delivers swift support to companies ready to scale. Because it takes less time to secure than venture capital, it's uniquely suited to support strategic growth initiatives like SaaS AI implementation because it allows your clients to act now and seize the opportunities from the start instead of stalling until the next round of equity funding.
At River SaaS, we offer three funding structures so your SaaS clients can adopt the funding plan that best suits their needs and ambitions:
Standard Installment Loan – Available as a lump sum or in portions of funding as needed, the standard installment loan offers swift funding that your clients will pay interest and principal payments on over a set time period.
Interest-Only – If your clients want to maximize the earnings they hold onto and reinvest them into their company for even faster scaling, interest-only venture debt will allow them to pay only interest for a set period of time so they can achieve just that.
Step-Up Structure – Similar to revenue-based financing, this option has payments that change from month to month and grow as the business grows. We develop a strategic payment plan ahead of time to ensure your clients know exactly what to expect when they sign the agreement.
Venture debt funding empowers your SaaS clients to act now and embrace a unique SaaS AI strategy that supports their values and ambitions.
Contact River SaaS for Better SaaS AI Funding
At River SaaS Capital, we help you find fast, flexible funding for your SaaS clients that support their scaling. We have extensive experience helping SaaS companies grow with strategic, non-dilutive funding that allows them to implement growth initiatives like SaaS AI quickly and effectively. We take a tailored, relationship-first approach with all of our clients and offer strategic growth insight to ensure your SaaS clients are set up for swift, sustainable scaling.
Ready to develop an AI strategy with your SaaS clients? When you're seeking strategic funding, River SaaS is here to help. Contact us today to learn more.