Ready to Scale Your SaaS Company to the Next Level?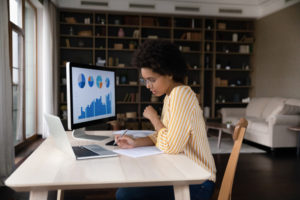 When you're ready to scale your business to the next level of growth, you have a number of options to consider. Like many other SaaS companies, you likely self-funded your way to a certain point, then obtained growth capital via an outside investor. While you can always continue that process, self-funding and venture capital aren't always the best avenues for rapid growth acceleration.
The reasons why venture debt financing stands above the rest are plentiful, but there's a variable that can influence your experience and results: your choice of lender. It's important to carefully consider lenders to SaaS companies so the debt financing you receive is designed to support your goals and the partnership is fruitful from the start.
Here, we'll explore three specific must-haves that make a significant impact on your ability to use the capital, how the investment influences financial performance over time, and your relationship with the lender.
Three Essentials with Lenders to SaaS Companies
1. Flexibility in Loan Structure and Repayment
Venture debt should be more than a one-and-done loan. Lenders to SaaS companies should design and structure their funding according to the company's goals and growth strategy. While standard installment loans are available, most SaaS companies see greater value in using interest-only loan structures or even step-up funding (comparable to revenue-based financing with key differences).
Interest-Only Benefits — Just as it sounds, this loan type requires monthly repayment of the interest portion of the loan only, typically for 18 to 24 months though longer repayment periods are possible. When this term ends, principal and interest are repaid as normal or in a balloon payment. The loan can also be refinanced. The benefit here is that you retain more of your revenue and profit while minimizing repayment early on when capital is needed.
Step-Up Financing — Whereas revenue-based financing requires repayment according to the revenue brought in during a month (thus resulting in payments that can vary wildly), step-up financing requires increasing repayment over time based on the estimated growth and performance of the company. The benefit here is that this repayment schedule is planned out in advance and agreed upon by both you and the lender, so there are no surprises.
Go Deeper — Learn more about these venture debt types and how we as a lender to SaaS companies approach each one.
2. Fewer Financial Control Mechanisms
Lenders to SaaS companies utilize a variety of controls to ensure their clients stay on track with their growth strategy. Apart from the obvious obligation to repay the debt within a certain timeframe, two of the most common mechanisms are warrants and covenants.
Warrants — In venture debt, a warrant is a mechanism that gives lenders to SaaS companies the right to buy stock in your business for a fixed price up to a certain date. You can learn more about warrants in the resources below, but the risk here is that they essentially give lenders the ability to take an ownership position in your business. Venture debt works best when it's non-dilutive, meaning you retain 100% ownership of the business — without any backdoors into ownership.
Covenants — A covenant is an agreement between you and a lender that requires you to meet certain criteria over time with the aim of mitigating risk. If these criteria aren't met, this is called "tripping" the covenant, at which point the lender can take any number of actions. It's important to understand how the lenders to SaaS companies that you are exploring approach covenants so you know what performance standards you'll be expected to uphold.
3. A Partnership Approach
One of the greatest advantages of equity-based funding is that the investor or VC firm will take an active role in day-to-day operations and decision-making. This makes sense because the company has a vested interest in ensuring the success of your business. As a result, you'll gain access to industry contacts and be able to leverage the partner's expertise in growing businesses similar to yours. The same should go for lenders to SaaS companies.
Whereas some lenders to SaaS companies will make their investment and then leave you to it, getting that level of partnership support will be extremely useful — particularly if this is your first venture debt investment. The lender will provide guidance on growth strategy, provide connections to sales and marketing resources you can use to accelerate those efforts, and more.
Experience the River SaaS Capital Difference
River SaaS Capital has been helping SaaS companies serving multiple markets leverage the momentum they've built and accelerate their sales and marketing efforts even further with our venture debt financing solutions. With a seamless process, you can get the capital you need and close faster than other funding solutions. We don't take warrants for our funding (ever), and we provide a variety of funding structures to help you best achieve your goals.
Best of all, we'll stick with you throughout your growth journey — providing the insights and support you need to achieve your growth objectives. When you're ready, fill out the form below to get in touch with our investment team.