It's Here — Download the 2022 SaaS Industry Report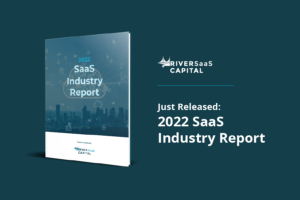 Each year, River SaaS Capital surveys SaaS companies from a variety of markets across the country to get their insights on the funding sources they used, how they put their growth capital to work, how that capital produced results (or didn't), and what their plans are for the future. We're proud to present this year's report, which is full of insights and other SaaS trends for 2022.
Be sure to download the previous report for comparison!
We are grateful to all of the SaaS founders and leaders who continue to participate. Their insights have paved the way for many other SaaS companies. By better understanding the impact of different funding sources, organizations across the nation are now able to make more informed decisions about their own growth journeys.
If you're not currently on our list and would like to participate in future surveys, reach out to us here. Participants receive a copy of the annual survey report before it is released to the public.
This year's survey painted a different picture than last year — understandably due to the pandemic easing in terms of its impact on SaaS companies. Here, we'll explore several key takeaways from this year's report, but be sure to download your free copy to get the complete picture.
Top Takeaways from the 2022 SaaS Industry Report
Selection of Funding Sources
In 2021, 13% more SaaS companies relied on self-funding than they did in 2020. Angel investor usage dropped from 30% in 2020 to 22% last year, and venture capital increased from 10% in 2020 to 13% in 2021. Debt financing usage increased slightly from 15% to 18% while bank financing dropped from 15% in 2020 to about 8% in 2021.
Interestingly, in 2020, SaaS companies reported that angel investors were the most beneficial source of funding, but in 2021 it was the least-cited beneficial source. Venture debt funding led the way in 2021 as the most beneficial funding source, with venture capital and bank loans coming in second, but with less than half as many reports.
Future Funding Source Usage
While SaaS companies emerging from the challenges of 2020 were met with new and different challenges in 2021, these new difficulties did not require them to pause all growth funding efforts. Following the expiration of the Paycheck Protection Program and Economic Injury Disaster Loans last year, companies looked within to fund their way forward. Now, having navigated the challenges of the past two years, a SaaS trend for 2022 and beyond is greater expected usage of venture debt — with more than 55% of survey respondents indicating that they plan to use that source in the future.
Last year, when the survey looked at 2020 data and asked the same, venture capital also led the way at 70%, followed closely by debt financing and angel investors. But as year-over-year data shows, expected usage is typically quite different from actual usage. As mentioned above, angel investors were the most-used funding source after self-funding, followed by venture debt and then venture capital.
Reasons for Funding
While growth is always a leading reason for pursuing growth capital, this year's report painted a different picture — one in keeping with recent trends in the industry. The past two years have provided the SaaS industry as well as the broader technology industry with a glimpse into the future as more and more companies rely on digital tools for productivity, communication, and more. In 2021, deal value in technology M&A was up 71% over 2020 — and that activity is expected to continue well into the rest of 2022.
This year's survey findings support this flurry of activity. While growth is of course the primary reason for obtaining *growth* capital, increasing valuation was the next highest-ranked reason at 35%, with no other reason coming even close. Companies focused on scaling themselves up and were even able to modestly grow their teams despite the country struggling with the Great Resignation trend.
Get Even More Insights in This Year's Report
While this year's report is full of interesting SaaS trends for 2022 and beyond, it also revealed an interesting note about venture debt. SaaS companies previously reported that they would consider venture debt in their future funding plans. And while debt was a runner-up with angel investors, far more SaaS companies reported that venture debt was a more useful growth vehicle for their businesses.
If your SaaS company is considering its funding options for the road ahead, venture debt serves as one of the most strategic, useful, and flexible solutions available. Not only can venture debt help you accelerate sales and marketing efforts to achieve your growth goals, but it can serve as a complementary funding source between others — often functioning as a bridge between raise rounds and allowing SaaS companies to reduce their burn rate or extend their overall runway as they seek to achieve other financial and operational goals.
If venture debt financing is on your radar this year or in the near future, connect with our investment team today. Our venture debt financing solutions lead the industry in their flexibility and focus on keeping you in complete control. We don't take warrants, we don't take a board seat, and we don't take the wheel of your growth journey. We simply serve as your partner in helping you make your vision a reality.
Download the 2022 SaaS Industry report here, then connect with our team to learn more about our venture debt financing.