When you're ready to take your SaaS business to the next level, you need a funding solution that leverages the growth you've established and gives you the flexibility to scale faster.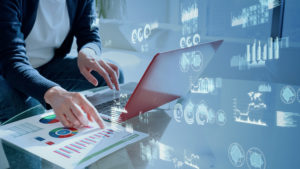 Whether you've already had experience with angel investors, venture capital firms, debt financing companies, or even funding via bank loans, only one solution stands above the rest when it comes to financing for high-margin SaaS companies: debt.
It might seem counterintuitive that debt can help you grow your business faster than other sources, and we'll explain why shortly. But first, it's also important to frame this discussion through the pros and cons of these various funding sources.
Angel Investors and Venture Capital
Pros — In addition to providing strong working capital, you gain access to a variety of industry contacts that can help you business in multiple ways (marketing partners, HR support, etc.) as well as a deeply involved partner that will be there to guide and support you along the way. They'll have a stake in your company, which keeps them committed to seeing the partnership through toward success.
Cons — Because VCs and angel investors hold a stake in your company, you'll likely have to give up a seat on your board. This means there'll be another voice that you have to consider when making decisions. Additionally, they can essentially stay invested in your company as long as they want, which means you'll be paying dividends to them until they decide to exit.
Bank Funding
Pros — Perhaps the greatest benefit of a bank loan as financing for high-margin SaaS companies is that the capital is fairly cheap to acquire. Interest rates are typically lower than other options. You can also generally use the capital how you see fit, and you might be able to get the funding even if you're not yet profitable.
Cons — The largest barrier to getting bank funding as a SaaS company is that they typically require assets as collateral (buildings, equipment, etc.). In today's world, most SaaS companies run asset-light — utilizing other companies' infrastructure to run their solutions. This means it might be difficult to qualify without usable assets.
Venture Debt Financing
Pros — The benefits of venture debt financing for high-margin SaaS companies are numerous, but a concise rundown includes no dilution of stock or ownership, greater flexibility in eligibility and capital usage, repayment flexibility, and more. You can go deeper into the benefits of venture debt financing here.
Cons — This depends on the lender, but the interest rate on the loan will be higher than a bank loan. You also might not get an active partner to advise you, and warrants may be required. Additionally, the lender will require some other form of collateral such as intellectual property. Again, every lender is different, so it's important to research a debt lending company that works for your goals.
Why Debt Stands Out for Financing High-Margin SaaS Companies
Clearly, each financing solution has its benefits, but there are key aspects of venture debt financing that make it ideal for SaaS companies that are ready to ramp up their growth:
Let's Build a Venture Debt Solution That Supports Your Goals
River SaaS Capital has been financing high-margin SaaS companies across multiple industries for years. Using our funding, founders and leaders have been able to achieve significant, measurable results for their businesses. Learn more about our portfolio companies as well as how our financing works.
When you're ready, fill out the form below to connect with our investment team.