What to Expect at the Show This Year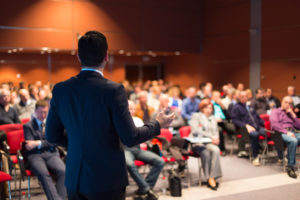 On your way to Subscription Show 2019? Here's what you can expect. This three-day conference, produced by Subscription Insider, is focused on the business of subscriptions. With access to more than 70 learning sessions, case studies, workshops, educational content, and actionable strategies, you'll learn how you can grow your recurring revenue business directly from the experts.
With your Subscription Show ticket, you'll receive access to the exhibition hall with leading subscription-focused platforms, tools, and service providers. You'll also be able to enjoy additional networking events such as sit-down dinners, meet-ups, one-on-one meetings, and more to understand the latest best practices for recurring revenue.
Conference keynote speakers include David Meerman Scott, Robbie Kellman Baxter, Lesley Fair, Patrick Campbell, and Sharath Dorbala, with dozens more speaking over the course of the three days. Workshops are held by leading experts from the NBA, A&E, HP, SingleSwag, Vindicia, The Wall Street Journal, Digital Marketer, Survey.com, VISA, Worldpay, Endurance International, Recurly, Agora Financial, PRSA, 2Checkout, and many others.
Past attendees of the show include representatives from more than 125 of the most well-known brands in the country.
How River SaaS Capital Can Support You After the Event
Subscription Show 2019 comes at a great time as Q4 is now underway. If you're looking at your financial strategy for the rest of this year, as well as 2020, be sure to consider working with River SaaS Capital in order to find a financing solution that will help you reach your goals.
We offer two types of financing at River SaaS Capital. Our equity-based financing is meant for sustaining operations and building your company. A benefit to equity financing is that it does not require principal and interest payments. Once equity funds are applied, profits do not have to go toward repaying debt.
The second type of financing we offer is venture debt financing, which is used for accelerating growth through sales and marketing efforts. Debt financing allows fast-growing companies to obtain working capital, even if they do not have traditional assets as collateral to borrow against, and they don't have to give up ownership of their company in the process.
Our financing model is best suited for software and technology-based companies that market their products using the software-as-a-service (SaaS) model with monthly recurring revenue (MRR) of at least $150,000 and strong customer retention rates. These high-growth, high-margin companies are well-suited to debt financing options, which allow them to preserve equity while still raising working capital.
How to Set Up a Meeting With River SaaS at the Show
If you'd like to meet with us at Subscription Show 2019, take a second to fill out the form below and we'll be in touch with you to set up a meeting.