These Are Complex Times — Use a Capital Solution Designed for Growth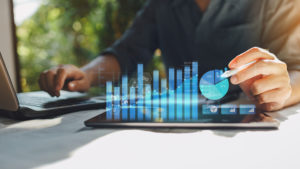 SaaS leaders will be well aware of the impact of today's complex economic environment on their businesses. Valuation multiples have been drastically cut, IPOs and exits have been delayed or restructured, and the capital companies need to grow and expand operations is less available than it was in previous years. As a result, SaaS cash flow has been a tricky thing to manage.
Despite the challenges in headlines over the past couple of months, revenues are still increasing as companies continue to seek solutions to streamline their workflows and pursue greater digital transformation. However, everything going on in the world has caused venture capital firms and other institutions to become more cautious in their investments and in their guidance to portfolio companies.
As a result, obtaining the capital needed to sustain or improve SaaS cash flow has become more difficult. Fortunately, venture debt financing stands as a solution to help SaaS founders and their teams weather any potential economic storms on the horizon while also pursuing their respective growth strategies and long-term goals.
How Venture Debt Improves SaaS Cash Flow
It's Growth-Focused from the Start — As we'll explore shortly, venture debt financing supports acceleration of sales and marketing efforts thanks to its sheer flexibility. At River SaaS, our portfolio companies have used venture debt for content marketing, lead generation, paid media, and more — all to engage more prospects, win new customers, and nurture existing relationships.
It's Ideal for Customer Success — As a SaaS leader, you know how crucial customer success is to your business. With the current environment, growing revenue from existing relationships is ideal. With venture debt financing, you can improve SaaS cash flow by building more refined onboarding processes, growing existing relationships, hiring customer success leaders, and more.
It Can Be Used to Extend Your Runway — If you've already raised equity funding, venture debt financing can serve as a bridge until your next raise round. This has been a common strategy for years, but it's never been more relevant than today as VCs encourage their portfolio companies to batten down the hatches and watch their spending. Using debt capital ensures your organization has resources to maintain its SaaS cash flow.
It's Available in Several Flexible Formats — While a standard installment loan option is available, the more ideal arrangement is to use an interest-only deal in which you only repay the interest on the loan for a period of time. This means more of your existing revenue is preserved while you use the capital to accelerate growth and increase cash flow. Eventually, you can start making principal and interest payments, make a balloon payment, or refinance the remaining balance.
You Can Repay Based on Revenue — Closely related to the above is the fact that venture debt can be repaid according to your growth, allowing you to hang on to important resources earlier and scale your repayment as you succeed. This is commonly known as revenue-based financing, but at River SaaS Capital, we use step-up financing. Learn more about the differences and benefits here.
It Closes Faster and Keeps Costs Down — All sources of growth capital have their costs. Fortunately, venture debt financing closes faster and without the need for significant spending on things such as legal reviews. Additionally, your time and attention as a leader have a cost as well. By closing on venture debt in a matter of weeks vs. months, you're able to spend more time on growth and preserve your resources. See how this benefited one of our portfolio companies here.
Put Venture Debt to Work to Improve Your SaaS Cash Flow
River SaaS Capital partners with SaaS companies looking to scale up their growth. We primarily work with companies that have $150K in MRR or more, are in the U.S., and want to retain their ownership and direction. Our debt financing is non-dilutive, meaning we don't take any stock in your organization — nor do we accept or require warrants in order to qualify. We want you to stay in complete control of your growth yet be able to rely on us for guidance and support along the way.
Ready to improve your SaaS cash flow? Fill out the form below to get in touch with our investment team.