A New Perspective for a Year of Change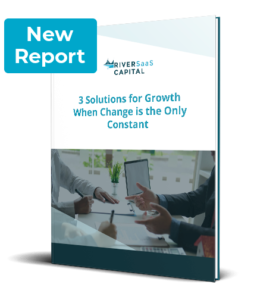 Earlier this year, River SaaS Capital launched its annual SaaS industry survey report. Our aim was to provide insights so SaaS company owners could make informed decisions regarding growth. But then, in just a matter of weeks, the world changed — and quickly. Virtually every industry experienced some kind of downturn, and the SaaS industry was no exception. That's why we developed and have released a new 2020 SaaS industry outlook report.
While the impact on SaaS ultimately depended on the industries served and platform capabilities, it was safe to say that many struggled. As Q2 progressed, and as many of us experienced, there was an immediate need for solutions that many companies didn't realize they had or thus far had not addressed. Because of this, many SaaS companies experienced staggering growth.
However, we believe those that did not experience that same growth still have an opportunity to take the reins and outlast the effects of the late Q1/early Q2 downturn. In our latest report, we'll explore three recommendations that SaaS owners can put to work right now for the rest of the year — and apply in years to come. Here are just some of the many takeaways and recommendations in the 2020 SaaS industry outlook report, which you can download here.
For Struggling Companies, New Customer Acquisition is Now Secondary
While SaaS companies may have lost subscribers in recent months for obvious reasons, new customer acquisition to replace them shouldn't be your primary growth strategy right now. Sure, new subscribers equate to new revenue, but if you're losing subscribers at the same time (whether due to pre-existing high churn rates or due to economic considerations), every bit of revenue you're throwing into the growth bucket is simply draining right back out.
This is a speed-boiled recipe for disaster because new customer acquisition is expensive. In fact, it can cost you up to five times more to acquire a new subscriber than to simply retain and grow your relationship with an existing subscriber. Not only do you have to spend a fair amount of resources identifying and targeting them, perhaps through various marketing efforts, but your team members also need to be more involved in nurturing them, closing the deal, conducting onboarding efforts, providing training, and remaining available for questions.
Your existing subscribers should be your focus for the rest of the year. Continue new customer acquisition efforts, but be careful to balance this so as to not overextend your team and resources. Remember that your existing subscribers are responsible for your existing revenue. In fact, 65% of a company's business comes from existing customers. Now is the time for your business to be focusing on customer retention.
Get the full 2020 SaaS industry outlook now for in-depth recommendations on how you can leverage your relationship with existing customers. Download the report here.
With Change Comes Opportunity
When businesses began sending employees to work from home, many found themselves unable to do their work. Companies scrambled to make employees remote-ready, and in many cases, this meant that SaaS solutions had to be engaged to keep employees productive. Communications, server access, teleconferencing, and other business functions had to be sourced from SaaS solutions to ensure work could continue. Not every SaaS company experienced this surge in demand, but there is still an opportunity for companies on both ends of the demand spectrum to capitalize on this rapid shift in how technology is used for work.
For companies that experienced an unexpected surge in demand, you naturally now have more data than you did before — not only in terms of how your platform held up but also in how it was used. This data is incredibly important because it shows you where your best opportunities are and where you need to make improvements. If your organization didn't see a large influx of new subscribers throughout Q1 and Q2 of this year, or even an expansion from existing customers, there's still an opportunity to take advantage of recent developments.
This is the ideal time to revisit your value proposition and identify ways that your solution can meet today's needs. The number of companies adopting remote work as a result of the pandemic has increased dramatically. Additionally, companies will be relying on more third-party services — i.e. SaaS — to handle core functions of their business. How can your organization rise to meet that need?
Whether you grew or struggled, the rest of the year is your chance to make positive changes. Get more recommendations in our 2020 SaaS industry outlook report.
Capitalize Now and Accelerate Your Efforts
Whether your business exploded due to increased demand or slowed because subscribers left, now is the time to put your foot on the gas. For companies that saw more demand, it's imperative that you retain that growth and leverage it to take your success to the next level. For companies that may have struggled to retain subscribers, this approach makes sense because you're accomplishing two things: retaining existing subscribers and putting your business in a position to succeed should your subscriber base begin to increase once again.
If you're swamped just trying to keep up with all of the new subscribers, onboarding and training efforts, and other areas of your business where you're feeling buried, you may not have the talent, next-level technology, or sales and marketing resources needed to accelerate your growth. If you've lost subscribers, the revenue you need to justify these efforts may not be available. While bank loans and equity financing are two viable solutions, you may have difficulty obtaining the former, and the latter brings a new party to the decision-making table.
One of the best solutions for SaaS companies looking to accelerate their growth is through venture debt. Designed to keep you in the driver's seat, venture debt provides the resources you need as a loan that can be structured with great flexibility and in alignment with your goals. Whereas recent events could impact your ability to obtain funding elsewhere, River SaaS Capital continues to provide venture debt to companies looking to accelerate growth.
Put Our 2020 SaaS Industry Report to Work for Your Business
If you're ready to chart a course for the rest of 2020 and are considering options for growth, our investment team is ready to work with you. Get in touch with us today to learn more about our debt financing solutions.