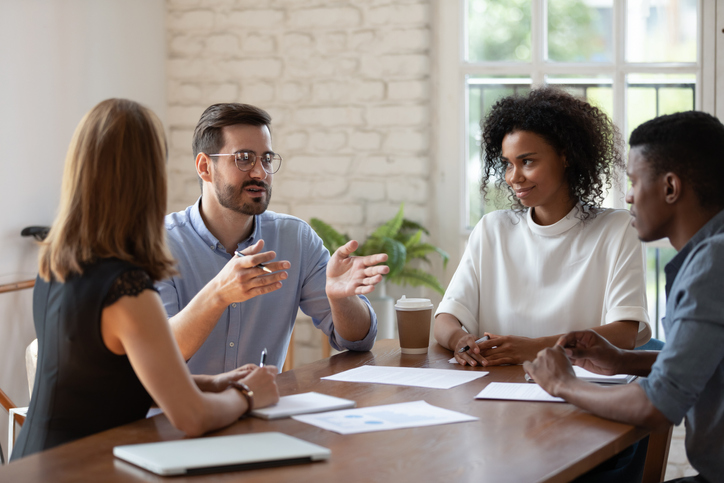 As 2023 begins, a mixture of negative financial outlooks and optimism looms. The market is volatile, with recession fears, weekly waves of layoffs, and rising inflation, but some industries show signs of an upward trend, leaving the latest market outlook from some industry experts hopeful. For SaaS companies, 2023 is a year for strategy. In order to push forward and fight the effects of an economic downturn, you must be strategic and data-driven as you pursue SaaS opportunities for growth.
In this article, we've broken down key insights on SaaS opportunities for scaling in 2023, and how you can use industry projections and recent industry trends to your advantage as you plan your attack for the year ahead. We also explore why venture debt financing is ideal to fund your next growth moves.
Businesses are Expanding Tech Budgets
In 2023, more than 70% of small and medium-sized businesses are expanding their technology budgets in an effort to improve operational efficiency. Though we're experiencing a global economic struggle, technology plays a vital part in fighting the downturn, and businesses are investing in the opportunities and advantages new software delivers. For SaaS companies, the data is clear: the SaaS opportunities for growth are present if you can reach your target customers. 
As the SaaS industry stands in 2023, it's a buyer's market. SaaS companies have exploded in recent years, and businesses have a wide range of companies to choose from when determining the best value-add to their tech stack. To stand out beyond your competitors and win the sale, it's imperative that you accomplish two critical to-dos: tighten your offering, then tighten your marketing and sales efforts.
Stand Out and Secure Sales with a Strong Product
Buyers of SaaS offerings have a checklist of expectations you must tick before you make the sale. Key items include security and quality. Buyers want your software to be secure and risk-free. Data protection is important, and as privacy laws grow tighter and companies make the news for poor data protection, it's critical you build a robust data security system to keep your company and customers protected. 
As the competition tightens, the quality of your product matters even more for customer success. Stand out from your competitors by delivering high-quality software with strong usability and seamless service. Clunky or unpredictable operations will turn users away, harming your customer retention and new customer acquisition.
Take the time to explore your offering and ensure it meets these critical needs. If you need funding to make changes that will tighten your service offering and deliver better value to your buyers, turn to venture debt financing, the non-dilutive funding option that provides the capital you need faster so you can act quickly and accelerate your sales.
Sales and Marketing Efforts Matter
In 2022, venture-backed startups were given the advice to cut their spending on sales and marketing. Some listened, and some didn't. Those that didn't listen saw more growth and are in a better financial and growth position for 2023. Data resounds: marketing and sales matter, and it's critical that you tighten your efforts for both in order to continue scaling in the upcoming year.
To do so, you need strong SaaS marketing planning and the funding to make it happen. As you build your marketing plan, explore a recent article where we highlighted key marketing opportunities for 2023, including an emphasis on marketing automation, paid search initiative, SEO, and more. When you're ready to boost your marketing and sales efforts and need capital, choose venture debt financing.
The Venture Debt Difference
Venture debt financing is a strategic funding opportunity that enables you to access your capital faster and use the funds more flexibly to best suit your unique needs. Whether your focus in the upcoming quarters is to enhance or expand your service offering, or you're ready to unleash a strong marketing campaign to boost sales, venture debt financing provides you with the capital to achieve your growth goals.
Unlike equity financing, venture debt funding doesn't require you to give up shares in your company in exchange for capital. It's a non-dilutive funding option that supports your growth without allowing your lender to take ownership of your company, and if you work with River SaaS, you won't be required to offer any warrants that would allow us to purchase shares later.
Debt funding offers flexible repayment options, including interest-only structures that enable you to maintain more of your profit as you earn it and leverage it to continue scaling. Venture debt can also be used to complement existing or future equity funding, offering an easy and effective avenue to grow between raise rounds and expand your evaluation, mitigate your equity loss, and manage your runway. 
When you're ready to scale in 2023, debt financing is ready to fund you.
Scale Swiftly and Sustainably with River SaaS
At River SaaS, we provide flexible, quality funding options for SaaS companies to spark their growth. We offer a wide range of venture debt structures that can be tailored to best suit your unique business needs, and we support your scaling with expert insight and growth strategies. We never take equity in your company through our debt financing options, and we don't require warrants.
When you work with us, you can trust that your growth efforts are supported and you can focus your funds where it matters most. Venture debt financing enables you to be more strategic and swift with your SaaS opportunities for scaling in the upcoming year so you can make business moves that make an impact.
Fill out our form below to connect with our investment experts today and learn more about your options.