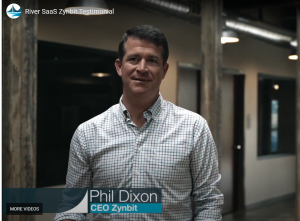 We know not all capital is created equally. We partner with our borrowers by providing growth funding without diluting ownership. You can use the capital to invest in scaling your business while maintaining full control and ownership.
"We are obsessed with the success of our borrowers." said Matt Kennedy, President of River SaaS Capital. "With each of our investments, we provide strategic advice in addition to capital so founders can reach key milestones and we love being able to contribute outside of just writing a check."
River SaaS Capital is excited to share with you one of our success stories. We invested in ZynBit in 2018. They have grown their business 10X during this period and were able to merge with a competitor, Cirrus Insight.
"Rivers SaaS Capital was a perfect fit for ZynBit" said Phil Dixon, CEO of ZynBit and Cirrus Insight. "Across the board checked all the boxes for us and it delivered on that through the 2 years that we were partners."
Listen to the founder and CEO of ZynBit tell his success story.