With More Growth Comes More Expectations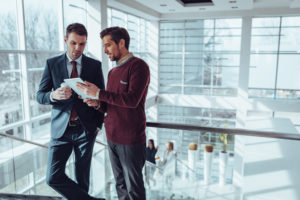 It's no secret that the past year resulted in growth for many segments of the SaaS industry. With countless companies leaning on third-party service providers for multiple aspects of IT, project management, communications, and more, the SaaS industry skyrocketed in terms of new users, customer retention, and revenue (though depending on the market served, this was not the case for all SaaS companies). The years before the pandemic were no exception. The days of on-site, in-house technology are gone — today, companies are adopting new solutions to solve challenges in infrastructure, workflow, sales, compliance, and many other business areas.
As a result, SaaS equity funding is continuing to see strong activity — and for companies that are earlier in their growth cycle than usual. This is because with an expanding customer base comes certain expectations. Your clients are using you to solve a problem, and you want to continue to be that solution as they grow. But if their needs begin to outpace your own platform releases and internal growth, you might very quickly find yourself with a lost client — and a lost chunk of revenue.
With SaaS equity funding, you gain capital that can be used to prioritize a variety of needs that go toward strengthening your organization for the months and years ahead. But first, it's important to understand that this growth capital solution provides that capital in exchange for a percentage of equity. Often, this equity takes the form of newly issued stock, which results in the dilution of the owner's stock. (This stands in contrast with venture debt financing, which provides growth capital in the form of a loan secured by assets or — as is common with growing SaaS companies — intellectual property.)
Each form of funding has its benefits, with venture debt financing primarily beneficial for growth acceleration via sales and marketing investment. Here, we'll explore several ways that SaaS equity funding benefits SaaS companies that are looking to strengthen their operations and infrastructure to support growing demand and expectations.
Stabilize Operations
Over the past 18 months, many companies faced extreme volatility. This took the form of reduced demand and lower revenues as well as the opposite — resulting in companies struggling to meet demand and maintain service levels. For SaaS, either experience presents an opportunity to utilize SaaS equity funding to stabilize operations. Perhaps your company lost subscribers to competitors due to scaling back on releases and support. Perhaps lower demand resulted in employees leaving for other opportunities, causing delays in multiple areas of the business. Or, growing demand for your platform has resulted in security concerns or shortcomings in features or capabilities.
Whatever the situation was, the current environment is volatile and things need to change. With SaaS equity funding, you not only gain the capital you need to address these concerns, but you also gain a partner that is deeply invested in your success. Further, that partner will have additional guidance and recommendations on how to right the ship. Having an equity partner also adds an outside perspective — one that's been refined by years of experience in helping SaaS companies operate with greater stability.
Go deeper: Learn how SaaS companies used equity funding in our 2021 report.
Invest in Platform Development and Security
As we mentioned above, you may have realized a need to more deeply invest in the security of your platform or its capabilities and features. You may have already had a backlog of items that you discovered through your product team's efforts and customer feedback, or the past 18 months may have stress-tested your platform to reveal areas where improvements can be made. These are both great opportunities to put SaaS equity funding to work for long-term success.
With the capital received through your equity partner, you can invest in building out those new features by attracting new developers, investing in employee benefits programs to win top talent, and obtaining any needed tooling to support the process. You can build out a proper product or platform team to manage customer feedback and product roadmaps. You can hire in-house cybersecurity professionals or partner with a third-party service provider for security-related issues. Whatever your needs may be, your equity funding will provide the resources needed to put the gears in motion.
Eliminate Financial Roadblocks
A key benefit of equity funding is that, apart from paying dividends to the equity partner, there are virtually no other financial burdens to bear as you focus on achieving your goals. While the equity partner may eventually exit, which will require repayment based on your agreement, such events typically happen years after the initial investment. With venture debt financing, you would have payments to make according to your loan agreement (such as principal and interest or interest-only).
Being able to retain more of your resources upfront to use as needed means you have less financial obligation to worry about now. Your equity partner will continue to receive dividends, which will eat into your profits as you make progress, but this may be more preferable depending on the amount of equity held by the partner and your overall agreement. Ultimately, with SaaS equity funding, you'll be able to prioritize your most urgent strategic objectives and begin to make progress.
One important note: An equity funding deal can take longer to close than a venture debt financing deal. The upfront costs can be higher as well since you'll need to navigate legal reviews and due diligence. But if you're willing and able to accept these conditions, your patience will be rewarded. Learn more about the differences between debt and equity here.
Access Industry Expertise and Guidance
We've touched on this a bit already, but in your equity partner, you'll find a wealth of knowledge and experience in the SaaS industry (and in many others). This knowledge is growth gold to SaaS founders that already understand their platform and market but could benefit from professionals with next-level company growth experience. Your equity partner will be able to introduce you to valuable connections for networking, potential partnerships and services, and general guidance. For many SaaS founders, having this input from a partner is invaluable as it helps them take a clearly defined path forward when it comes to your next steps.
Invest in Sales and Marketing
While venture debt financing is ideal for accelerating sales and marketing, SaaS equity funding can still be used for a similar purpose. In fact, it will likely be one of several use cases for your growth capital alongside the other potential uses already mentioned. This capital can be used to hire experienced sales and marketing leaders, invest in relevant marketing tactics like content marketing and paid digital advertising, stand up more advanced or expanded instances of growth tools like automation systems and CRMs, and much more.
Partner with River SaaS Capital for SaaS Equity Funding
You have countless options when it comes to finding a SaaS equity funding partner, but at River SaaS Capital, we take the same approach with equity as we do with our debt capital — one that focuses on a lasting partnership. From day one, our team works closely with you — whether you're a debt client or equity client — to provide you with the insights, guidance, and support you need to achieve your growth goals. Our leadership team has more than 100 years of combined experience in SaaS and many other industries — experience that we put to work in every relationship.
If you're ready to explore your SaaS equity funding options, our team is ready to connect with you. Learn more about our equity funding here, and if everything sounds good to you, then connect with us to discuss next steps.